We are excited to share our journey through the fascinating world of 3D design as we recently participated in Rhino World 2023, an international gathering centered around the Rhino and Grasshopper ecosystem.
A Travel Journey with Studio 3DX
We are excited to share our journey through the fascinating world of 3D design as we recently participated in Rhino World 2023, an international gathering centered around the Rhino and Grasshopper ecosystem. This unique event, hosted by McNeel Europe, brought together McNeel regions, worldwide resellers, trainers, industry partners, 3rd party developers, and expert users. It was a platform to discover the latest innovations and developments in the world of Rhino, Grasshopper, and beyond.
An event is as successful as the people you meet, and we had the pleasure to meet friends from the industry, made some new partners and enjoyed an event like no other.
Unveiling Rhino 8 and the updated Grasshopper 2.0
Our journey began with great anticipation, as we witnessed the grand unveiling of Rhino 8 and the new features in Grasshopper presented by the creator; David Rutten. Studio 3DX had the opportunity to explore its exciting features. SubD Creases, which allow weighted edges for creating smooth and creased edges, caught our attention. It's a fantastic tool for achieving fillet-like features, all while keeping the 3D design process simple and efficient.
ShrinkWrap was my personal favourite. It enables the creation of wrapped meshes, making it ideal for various applications like 3D printing and reverse engineering workflows. This can be used to fix meshes that are imported, broken or open ones you wish to wrap. I made a quick test you can find later in the article.
On the second day, our team delved deeper into the world of 3D markets and ecosystems, with a special emphasis on Architecture, Engineering, and Construction (AEC). Esteemed guest speakers, including Martin Schulte and Tania Ihlenfeld, shared their insights into the challenges and opportunities in the AEC sector. It was an enriching experience, and we made note of how innovative tools and technologies are shaping the industry.
The final day brought us closer to the concept of data-driven design. Guest speakers Nicoline van Enter and Fred Tucek shared their thoughts and experiences. Nicoline, the Founder and CTO at Footwearlogy LAB, envisioned data-driven, collaborative design systems, emphasizing the importance of predicting results and maintaining preset principles. Fred Tucek's words inspired us, highlighting the need for new tools, technologies, and platforms to enhance creativity and innovation. It resonated with Studio 3DX's mission to provide a platform that encourages exploration.
The Rhino 8
Studio 3DX was thrilled to experience the Rhino 8 firsthand. The features unveiled, including SubD Creases and ShrinkWrap, left us excited about the possibilities. SubD Creases offer a simple yet effective method to create features in 3D models, enhancing the user experience and the quality of our platform.
ShrinkWrap's capability to create wrapped meshes has a wide range of applications, including 3D printing, reverse engineering workflows, and point cloud meshes. We recognized that it could significantly impact the 3D design process and further enrich the Studio 3DX platform. This is by far the most frequent tool I will be using.
A standout feature in version 8 is the introduction of SubD Creases, offering a balance between smooth and sharp edges, ideal for crafting fillet-like features. This enhancement makes accurate and organic modeling more accessible than ever, allowing users to effortlessly manipulate intricate, free-form shapes in real-time through intuitive push and pull interactions. SubD objects boast high precision and can be effortlessly converted into manufacturable solids. Moreover, users have the flexibility to convert scan or mesh data into SubD objects and, if desired, further convert them into NURBS.
Rhino 8 introduces exciting features aimed at enhancing the playfulness and accessibility of modeling. The key focus is on streamlining common solid creation and editing tasks, reducing friction in your workflow. One notable addition is the PushPull tool, which accelerates Solid Modeling by utilizing curves to effortlessly add or remove volumes from existing geometry. This tool simplifies the modeling process, allowing you to remain in a single Perspective view. The Gumball feature further enhances versatility by enabling quick movement, rotation, scaling, copying, cutting, and extrusion of geometry without the need for commands or toolbar clicks.
Inset, another valuable addition, facilitates the inward offset of edges on meshes, SubD, or polysurface faces, providing an easy method for creating sub-faces that can be further manipulated using PushPull. Additionally, the Auto CPlanes feature ensures smarter alignment to eligible selections, making it easier to place and edit geometry with the right orientation, eliminating the need to cycle through multiple views. These enhancements collectively contribute to a more intuitive and efficient modeling experience in Rhino 8.
You can find all the release updates on the launch website today: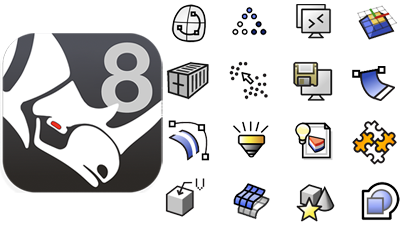 💡
Are you looking for a bit more; there's a list of
new commands
for Rhino 8 in the documentation page.
iRhino: 3D Viewing on iOS
Our exploration at Rhino World 2023 also introduced us to iRhino, the official Rhino 3dm viewer for iOS. It offers an array of features, including augmented reality (AR), layer management, and the ability to render different views. Similar to what we achieve with Studio 3DX, iRhino is an iOS viewer that can load any 3DM file and present your work to your clients.
Grasshopper 2.0
Some of the new features mentioned include:
Improved user interface: The new interface is more intuitive and user-friendly, with better organization of components and more customization options.
New components: Grasshopper 2 includes several new components that allow for more advanced and complex designs, such as the SubD component for creating smooth, curved surfaces.
Improved performance: The software has been optimized for faster performance, with better memory management and more efficient processing of large data sets.
💡
Grasshopper 2.0 Alpha 1 is finally available for public testing. If you have Rhino8 Wip installed, you can download and install the grasshopper2 plug-in via the _PackageManager and started with the _G2 command. Grasshopper 2 can be installed and used alongside Grasshopper 1.
Source: https://discourse.mcneel.com/t/grasshopper-2-alpha-available-for-testing/140401
Please note that this is an alpha version of the software, which means that it is still in development and may not be fully stable or feature-complete. However, it provides a good idea of what to expect from the final release.
Did you know you can follow Grasshopper 2 progress on twitter: https://twitter.com/CapsuleWire
Studio 3DX at Rhino World 2023
Studio 3DX was not merely a spectator at Rhino World 2023; we actively engaged with this beautiful event. Our booth (Booth E4, Floor 1) welcomed influential figures from the 3D design industry. Participants had the chance to interact with Studio 3DX on a 4K screen, where they experienced the magic of our platform.
What makes Studio 3DX unique is that it is currently the only interactive 3D visualization platform that allows companies to create stunning 3D scenes and share them on the web without struggling with issues related to model size or format.
🚀
Are you new to Studio 3DX, Inc.? Join us at
studio3dx.com
for free.